TOBY TATE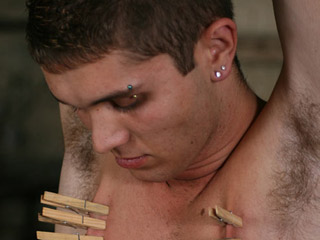 Our newest crew member Tony Parker gets his first turn with handsome, straight boy Toby Tate. Ripped body, cut cock and eyes like pools of water, Toby tries everything possible to plead his way free but Tony has his instructions! Roped by his wrists and hung from the ceiling, Tony starts the torment with pegs on the boys nipples. Between more pegs being added, Tony gives Toby a long, soft blow-job as the boy struggles to maintain his manhood pleading to be left alone. Tony's final insult is to cum over Toby's ripped body, leaving cum running down the cringing lad's body.
LUKE RYAN & SEBASTIAN KAIN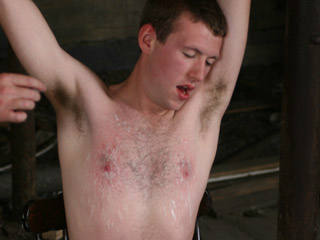 Sebastian returns to find straight boy Luke Ryan weak and distressed after his time with crew-man Luke Desmond. Taped to a chair, aims roped above him, Sebastian lights up the candles and has some hot fun dropping wax over this helpless, hairy teen. Screaming out and moaning Luke takes the wax like a man until Sebastian lowers his aim dripping wax on to the crying lad's inner thighs, cock and balls. Too much to take, Luke pleads for the pain to come to an end offering his cock and hard-on in exchange. Watch Sebastian tease Luke's cock until the embarrassed lad gives up his defiant load.
All BoyNapped.com promo content available at gunzblazing.com